Residential Building Services
New Maine Home Building
Our specialty at Craig Miller Builders is building the finest homes in Maine. We will work directly with your architect or designer to make your dream home a reality. Craig Miller Builders typically serves as General Contractor on most new homes we build, allowing us to manage the Sub-contractors that we have trusted relationships with on your behalf.
Have the home of your dreams built to meet or exceed your wildest imagination!  Craig Miller Builders builds affordable and luxury homes in the greater Bangor and Coastal Maine areas.  We love to build beautiful, visually stunning and thoroughly constructed homes.  Looking to have your perfect home built?  Let Craig Miller Builders of Bangor, Maine engineer and build you not just a house… let us build you a home.
Maine Home Additions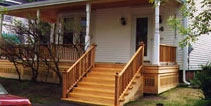 Craig Miller Builders has made many additions to existing homes in Maine. We're proud to offer additions such as decks, garages and more. Please Contact Us today for an appointment to discuss a new addition to your home, garage or barn.
Maine Home Remodeling & Renovations
In addition to building new homes and additions, Craig Miller Builders offers thoughtful home renovation services for existing structures.  Contact Us today for an appointment to discuss your home remodeling ideas.
Maine Kitchen Remodeling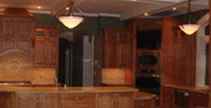 It's amazing how remodeling a kitchen can update the whole look and feel of a home. Craig Miller Builders remodel kitchens all over Maine, resulting in some of the highest quality construction available and adding more value to your home. Please Contact Us today to discuss an update for your kitchen.
Maine Bathroom Remodeling